2020 Calendar: celebrate 50 years with us!
Receive one free when you join.
Ordering offline? Use this form.
| | |
| --- | --- |
| Scientific Name: | Surnia ulula |
| Population Status: | Least Concern |
| Body Length: | 14-15 in (355 - 381mm) |
| Wingspan: | 2-1/2 to 3 ft (762 - 914mm) |
| Weight: | 9-12 oz (255-340 g) |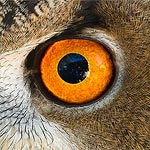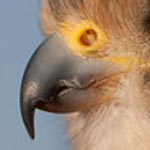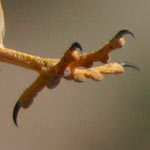 Did you know?
Unlike most other owls, the Northern Hawk-owl does not fly on silent wings. Its feathers are stiffer than nocturnal owls so when it flies its wings do make some noise.
The Northern Hawk-owl is able to catch prey using only its hearing! Scientists have documented it picking up on noises made by prey moving as much as 12 inches beneath the snow - the Northern Hawk-owl then swoops down on this "invisible" prey and grabs it with its sharp talons.
Despite its excellent hearing, Northern Hawk-owls do not have asymmetrical ear openings, like most other owls.
---
Photo gallery
Photos needed! If you are a photographer and would be willing to donate photos of for use on this site, please email us.