Tom Cade Ph.D.
Founding Chairman and Director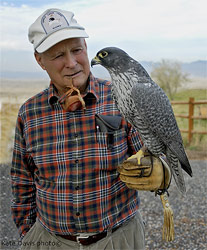 Forty years ago, The Peregrine Fund began its work with a simple mission to save the Peregrine Falcon from extinction. Today, we work around the world, conserving birds of prey faced with habitat loss, poisoning, and other challenges. Peregrine Fund founder Tom Cade remembers the past and looks toward the future.
When did you first become fascinated with birds of prey?
I was always interested in animals, small and large, from the time of my earliest memories around the age of four years. I still carry a scar on the tip of my left forefinger from the bite of a very angry thirteen-lined ground squirrel that I was trying to catch by pouring buckets of water down its hole. Later I learned how to trap these squirrels in a big tin can attached to a rat trap with wire mesh stretched over the spring release mechanism.
My abiding interest in raptors began at the age of nine when I read an article in the July 1937 issue of the National Geographic Magazine on hawks, owls, and falconry by the famous twins, John and Frank Craighead. Their photo of a trained Peregrine named Ulysses captured my attention. From that time on, I read everything I could get my hands on about birds of prey and falconry. About the same time, I took my first wild raptor for training from a nest on my grandpa's farm in West Texas. Unfortunately, it was a Cooper's Hawk, not a Peregrine.
What did you think when you received the first donations to help you save the Peregrine Falcon?
The Peregrine Fund developed as a natural growth from the unsolicited response of private citizens who began sending the Laboratory of Ornithology money "to help save the Peregrine." The first two dollars came from two young supporters in California who took up a collection among their friends. Shortly afterward, the Massachusetts Audubon Society made a substantial contribution and our fund started to grow. I hoped one day to be able to repay them all with Peregrine Falcons re-established in then-vacant nesting areas.
What was the hardest problem you had to solve to achieve recovery of an endangered species?
I suppose the hardest problem for me was figuring out how to obtain the necessary funds to keep the operations of captive breeding and reintroduction going long enough for successful recovery. As a professor at Cornell University, my only experience in raising money was by the standard academic process of applying for research grants from the National Science Foundation and similar granting agencies. It soon became apparent that these science-supporting sources would not provide the amount of money that would be required.
I started looking elsewhere and soon discovered that help could be obtained from private patrons who were interested in conservation of the Peregrine, certain corporations and foundations, and quite a few conservation organizations. When the Endangered Species Act came into existence in 1973, various state and federal agencies also became empowered to help, particularly the U.S. Fish and Wildlife Service, National Park Service, and Bureau of Land Management. To deal effectively with these various sources of support, four founders—Bob Berry, Frank Bond, Jim Weaver, and I—officially established The Peregrine Fund as a non-profit organization in 1974.
Looking back over 40 years, what is your proudest moment?
It probably was in the spring of 1980, when I climbed up into a nest box on a hack tower in the Brigantine National Wildlife Refuge in New Jersey with Jim Weaver and helped him band three young Peregrines produced by a pair of our released birds. They were one of three broods successfully produced in the wild for the first time in eastern North America since the 1950s.
One of the pairs, which consisted of a female raised at Cornell and a wild Canadian male, nested at an historical cliff-eyrie in southern Quebec near the Vermont border. Looking at their three vigorous and perfectly developed young falcons made us realize that Peregrine Falcons could once again reproduce successfully in the northeastern environment because DDT residues and other chemical contaminants in the falcons' prey were low enough to permit normal reproduction. I then understood that recovery of the Peregrine would be an accomplished fact in a few more years.
Of course, it was also a proud moment in August of 1999 when then-Secretary of the Interior Bruce Babbitt came to the World Center for Birds of Prey to announce officially that the Peregrine Falcon was recovered in North America and had been removed from the list of endangered species.
What do you see for the future of The Peregrine Fund?
The Peregrine Fund grew to become much more than anyone originally envisioned. Today it carries out projects on raptor conservation all around the world, as well as continuing two major domestic projects on the endangered California Condor and Aplomado Falcon.
At the end of the last century, the staff, under Bill Burnham's supervision, undertook a major effort to look into the future and to come up with a plan of operation for the 21st century. It involves greatly expanding our commitment to efforts carried out overseas, particularly in places like Southeast Asia and South America, where many species of endemic raptors are likely to need help in the coming decades.
It also provides for increased training and education of raptor biologists from foreign countries, while remaining vigilant in regard to developing problems in North America, such as those that likely will arise from the effects of climate change. These plans were reviewed several times by our board of directors and approved by them. They remain our best guideline for the future.