Raptor High: The Peregrine Fund's
Summer Youth Volunteer Program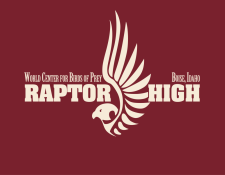 Join The Peregrine Fund's team of student volunteers at the World Center for Birds of Prey!

The "Raptor High" program supports students interested in becoming teachers of raptor biology and ecology as they share inspiring stories of conservation with visitors from around the world.
We look forward to working with a number motivated high school-aged students this summer who want to learn more about conservation and further practice the time management and public speaking skills expected in a professional environment.
The Application Period for 2019 Has Closed!
Time Commitment
The program runs for 12 weeks from June - August
Complete approxiately 30 hours of service over the course of the program
Various shifts are available daily during our summer hours of operation (Monday - Sunday: 10 a.m. - 5 p.m)
Volunteer around your summer plans!
For More Information
Contact Jessica Gordon, Volunteer Coordinator, 208-362-8262, jgordon@peregrinefund.org.
2020 Program Dates to Know

Application Period Opens
Wednesday, January 1st, 2020
Applications Accepted Until
Tuesday, March 31, 2020
Interviews
Throughout April
Notification of Acceptance
Saturday, May 9, 2020
Team Training (Required)
Monday, June 1, 2020
End of Program Gathering
Saturday, August 22, 2020